Rail Journey through the Heartland
We're off! Follow our trip by clicking on the links below.
Seattle to Los Angeles June 18-19
Los Angeles / Pasadena June 20-21
Los Angeles to San Antonio June 22-23-24
San Antonio to Oklahoma City June 24
Jason in Oklahoma City June 25
Touring Oklahoma City June 26
Oklahoma City to Saint Louis June 27-28-29
Saint Louis to Chicago June 29-30, July 1
Chicago to Seattle July 1-2-3-4
And we're back home now. Hope you enjoyed a vicarious tour of the Heartland with us!
I assembled a few panorama images when we got home (using Canon's nifty PhotoStitch software, which I neglected to take with us). You might have to fuss a bit with your browser to view these full size (they are 1280 pixels wide).
| | | |
| --- | --- | --- |
| | | |
| The rose gardens at the Huntington. Every imaginable color and fragrance. | The Oklahoma City Federal Building Memorial. 9:01 wall is on left; 9:03 on right. Church in distance at right was destroyed by the blast, later rebuilt. | Chicago's Grant Park from our hotel room (Navy Pier at far left, Buckingham Fountain near center with crowd of people for Taste of Chicago celebration, museums at far right. Field Museum of Natural History is the largest building at the very right edge of the picture. |

This June, we will be embarking on a rail trip taking us from Seattle to Los Angeles, San Antonio, Fort Worth, Oklahoma City, St. Louis, and Chicago. One of the advantages of arriving at mid-town train stations (instead of airports) is that many attractions are within easy walking distance. Excepting Los Angeles, we will reach everything by foot from the train station and hotel.
Our route will take us across about 6,750 miles of track. We'll travel on four different Amtrak long-distance (overnight) trains: the Coast Starlight, Sunset Limited, Texas Eagle, and Empire Builder. Each of these trains is very likely to disappear forever next year unless Amtrak funding is restored. We'll also sample regional services like the Heartland Flyer from Fort Worth to Oklahoma City, and the Ann Rutledge from St. Louis to Chicago. We'll spend five nights on board trains heading to our next destination. That's one of the most attractive parts of long-distance rail travel - being rocked to sleep by the gentle motion of the train as it rolls down the tracks.
One of the best passenger rail web sites I've seen is the Texas Eagle site. There's a wealth of information about the route, and all of the cities where this train stops, with links to attractions and hotels in the area. This site was invaluable in planning stopovers in Fort Worth, Oklahoma City, and St. Louis.
The itinerary was especially chosen to be tolerant of late trains. Some Amtrak long distance trains, particularly those running on the tracks of the Union Pacific, are routinely late by several hours. None of our stops require any particular arrival time, so we can sit back, take in the scenery or a meal in the diner, and get there when we get there.

Some attractions we plan to visit, by foot everywhere except Los Angeles:
Los Angeles: Walking tour of downtown LA (333 South Hope Street, 37th Floor), Huntington Gardens, Northwoods Inn (throw your peanut shells on the floor!), Pasadena (307 South Wilson Apt #1), Griffith Park hiking, Medieval Times Restaurant
San Antonio: Riverwalk, The Alamo
Oklahoma City: Nephew Jason McGuire (at Tinker Air Force Base), Federal Building Memorial, Bricktown historic district, Myriad Botanical Gardens
Fort Worth: Sid Richardson Museum of Western Art, Sundance Square, Cattle Raiser's Museum
St. Louis: The Gateway Arch, Museum of Westward Expansion, Union Station, Mississippi Riverboats
Chicago: Art Institute Museum, Navy Pier, Field Museum of Natural History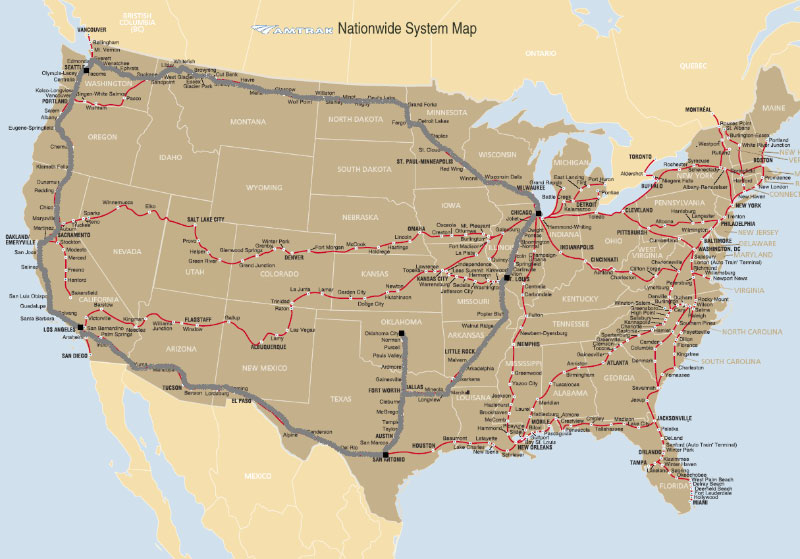 Itinerary:
| | |
| --- | --- |
| June 18 | Coast Starlight Seattle to Los Angeles |
| June 19 | Arrive Los Angeles |
| June 20 | Touring Los Angeles |
| June 21 | Touring Los Angeles |
| June 22 | Sunset Limited Los Angeles to San Antonio |
| June 23 | Arrive San Antonio |
| June 24 | Touring San Antonio |
| June 25 | Texas Eagle / Heartland Flyer San Antonio to Oklahoma City |
| June 26 | Touring Oklahoma City |
| June 27 | Touring Oklahoma City |
| June 28 | Heartland Flyer Oklahoma City to Fort Worth, Texas Eagle to St. Louis |
| June 29 | Touring St. Louis |
| June 30 | Ann Rutledge St. Louis to Chicago |
| July 1 | Touring Chicago |
| July 2 | Empire Builder Chicago to Seattle |
| July 3 | On-board Empire Builder |
| July 4 | Arrive back in Seattle |
Part of the planning process for any domestic train trip is preparing for late arrivals. To get an idea of realistic expectations, I've been studying actual arrival times for each train we'll be taking using information available on Amtrak's web site. The least reliable train on our trip is the Sunset Limited, which has Amtrak's worst on-time performance record. Even after schedule adjustments made in late March, this train still has very unpredictable arrival times. Most of the delays are a result of severe freight congestion on this track, which is owned and operated by the Union Pacific. The star performer of the long-distance group is the Empire Builder, operating over Burlington Northern Santa Fe tracks, which is almost always on time or even early into Seattle. The short haul routes (Heartland Flyer and Ann Rutledge) are typically punctual.

In the table below, I've listed the scheduled, average, latest, and 80% confidence arrival times for each train. The "80% confidence" value is the time by which 80% of trains arrive (and consequently, 20% of trains arrive later than this time). Trains on the Union Pacific routes (Coast Starlight and Sunset Limited) are extremely unreliable, with average arrival times about 3 hours late, and 80% confidence intervals extending to about 5 hours later than schedule. During the sample period, both of these trains had several instances where arrivals were more than 8 hours late.
Coast Starlight
No. 11
Ar LAX

Sunset Limited
No. 2
Ar SAS

Texas Eagle
No. 22
Ar FTW

Heartland Flyer
No. 822
Ar OKC

Heartland Flyer
No. 821
Ar FTW

Texas Eagle
No. 22
Ar STL

Ann Rutledge
No. 304
Ar CHI

Empire Builder
No. 7
Ar SEA

Scheduled

9:00 PM

10:25 PM

2:58 PM

9:39 PM

12:39 PM

8:09 AM

8:45 PM

10:20 AM

Average

12:05 AM

2:19 AM

3:40 PM

9:34 PM

12:42 PM

8:43 AM

8:56 PM

10:19 AM

Latest

12:40 PM

1:30 PM

9:13 PM

10:20 PM

1:37 PM

12:45 PM

11:52 PM

4:28 PM

80% Confidence

2:20 AM

4:45 AM

4:18 PM

9:39 PM

12:54 PM

9:59 AM

9:20 PM

10:35 AM

Monday

4/4/2005

2:16 AM

11:55 PM

3:27 PM

9:22 PM

12:33 PM

7:37 AM

8:18 PM

Tuesday

4/5/2005

1:44 AM

N/A

3:34 PM

9:15 PM

12:38 PM

7:25 AM

8:36 PM

9:58 AM

Wednesday

4/6/2005

10:22 PM

N/A

3:17 PM

9:38 PM

12:40 PM

8:21 AM

8:50 PM

10:05 AM

Thursday

4/7/2005

10:35 PM

12:20 AM

3:10 PM

9:23 PM

12:49 PM

7:27 AM

8:38 PM

10:30 AM

Friday

4/8/2005

10:35 PM

N/A

4:55 PM

9:37 PM

12:34 PM

8:08 AM

8:36 PM

4:28 PM

Saturday

4/9/2005

8:31 PM

11:25 PM

4:15 PM

9:22 PM

12:39 PM

12:05 PM

8:31 PM

10:15 AM

Sunday

4/10/2005

1:51 AM

N/A

2:42 PM

9:22 PM

12:26 PM

9:36 AM

9:27 PM

9:50 AM

Monday

4/11/2005

9:44 PM

2:30 AM

3:25 PM

9:34 PM

12:35 PM

8:12 AM

8:42 PM

9:52 AM

Tuesday

4/12/2005

10:59 PM

N/A

4:56 PM

9:12 PM

12:44 PM

9:55 AM

8:20 PM

Wednesday

4/13/2005

11:15 PM

N/A

3:25 PM

9:20 PM

12:49 PM

10:40 AM

8:51 PM

11:25 AM

Thursday

4/14/2005

9:54 PM

12:45 AM

3:35 PM

9:37 PM

1:06 PM

9:01 AM

8:35 PM

Friday

4/15/2005

9:56 PM

N/A

3:05 PM

9:34 PM

12:35 PM

8:33 AM

9:18 PM

10:20 AM

Saturday

4/16/2005

10:00 PM

11:10 PM

3:15 PM

9:34 PM

12:39 PM

9:32 AM

8:53 PM

10:28 AM

Sunday

4/17/2005

N/A

2:54 PM

9:30 PM

12:32 PM

8:55 PM

9:50 AM

Monday

4/18/2005

10:45 PM

11:33 PM

3:25 PM

9:28 PM

12:30 PM

10:12 AM

9:15 PM

10:10 AM

Tuesday

4/19/2005

9:36 PM

N/A

3:15 PM

9:16 PM

12:38 PM

8:31 AM

8:26 PM

9:53 AM

Wednesday

4/20/2005

8:38 PM

N/A

3:32 PM

9:29 PM

12:34 PM

9:38 AM

8:48 PM

9:55 AM

Thursday

4/21/2005

9:14 PM

8:00 AM

3:55 PM

9:22 PM

12:49 PM

10:20 AM

9:35 PM

10:05 AM

Friday

4/22/2005

10:00 PM

N/A

5:09 PM

9:33 PM

12:40 PM

10:13 AM

9:47 PM

9:53 AM

Saturday

4/23/2005

9:01 PM

10:50 PM

3:10 PM

9:29 PM

1:00 PM

10:44 AM

8:45 PM

9:55 AM

Sunday

4/24/2005

8:40 PM

N/A

4:40 PM

9:14 PM

12:27 PM

9:54 AM

8:43 PM

9:50 AM

Monday

4/25/2005

3:29 AM

11:45 PM

3:40 PM

9:54 PM

12:27 PM

10:01 AM

8:35 PM

9:45 AM

Tuesday

4/26/2005

10:07 PM

N/A

3:51 PM

10:17 PM

12:57 PM

9:12 AM

11:38 PM

9:50 AM

Wednesday

4/27/2005

6:54 AM

N/A

4:30 PM

9:44 PM

12:32 PM

10:05 AM

8:42 PM

10:45 AM

Thursday

4/28/2005

11:28 PM

2:15 AM

4:15 PM

10:12 PM

1:00 PM

12:45 PM

8:32 PM

10:43 AM

Friday

4/29/2005

10:32 PM

N/A

3:17 PM

9:39 PM

12:39 PM

9:59 AM

8:33 PM

9:40 AM

Saturday

4/30/2005

11:09 PM

12:17 AM

3:44 PM

9:31 PM

12:39 PM

9:07 AM

8:53 PM

10:08 AM

Sunday

5/1/2005

9:13 PM

N/A

3:00 PM

9:18 PM

12:24 PM

8:39 AM

8:23 PM

10:03 AM

Monday

5/2/2005

8:23 PM

10:53 PM

3:30 PM

9:38 PM

12:34 PM

11:17 AM

8:28 PM

9:50 AM

Tuesday

5/3/2005

1:40 AM

N/A

2:58 PM

9:21 PM

12:39 PM

8:19 AM

8:37 PM

10:10 AM

Wednesday

5/4/2005

11:59 PM

N/A

3:27 PM

9:49 PM

12:51 PM

7:39 AM

8:25 PM

10:15 AM

Thursday

5/5/2005

10:15 PM

1:34 AM

3:20 PM

9:27 PM

12:39 PM

8:55 AM

9:19 PM

10:16 AM

Friday

5/6/2005

9:09 PM

N/A

3:26 PM

9:44 PM

12:28 PM

7:48 AM

8:40 PM

11:06 AM

Saturday

5/7/2005

9:12 PM

10:45 PM

3:25 PM

9:26 PM

12:49 PM

7:41 AM

8:51 PM

10:10 AM

Sunday

5/8/2005

11:05 PM

N/A

2:59 PM

9:26 PM

12:23 PM

7:41 AM

8:30 PM

10:31 AM

Monday

5/9/2005

8:46 PM

4:42 AM

3:36 PM

10:05 PM

12:39 PM

7:20 AM

10:10 PM

10:40 AM

Tuesday

5/10/2005

1:09 AM

N/A

2:58 PM

9:24 PM

12:39 PM

7:09 AM

8:56 PM

10:52 AM

Wednesday

5/11/2005

10:27 PM

N/A

3:10 PM

9:19 PM

12:29 PM

7:22 AM

8:57 PM

10:05 AM

Thursday

5/12/2005

11:53 PM

1:27 AM

4:25 PM

9:24 PM

12:39 PM

8:35 AM

9:38 PM

10:05 AM

Friday

5/13/2005

1:01 AM

N/A

5:40 PM

9:28 PM

12:30 PM

8:13 AM

8:43 PM

10:20 AM

Saturday

5/14/2005

3:50 AM

10:40 PM

3:48 PM

9:18 PM

9:30 AM

8:51 PM

10:10 AM

Sunday

5/15/2005

11:36 PM

N/A

4:45 PM

9:31 PM

12:34 PM

7:14 AM

8:48 PM

10:03 AM

Monday

5/16/2005

9:16 PM

10:44 PM

2:50 PM

10:03 PM

12:39 PM

8:28 AM

8:50 PM

10:05 AM

Tuesday

5/17/2005

10:12 PM

N/A

2:46 PM

9:30 PM

12:39 PM

8:10 AM

9:00 PM

10:25 AM

Wednesday

5/18/2005

10:43 PM

N/A

2:40 PM

9:23 PM

12:36 PM

7:19 AM

9:09 PM

10:20 AM

Thursday

5/19/2005

1:53 AM

12:23 AM

2:42 PM

9:29 PM

12:39 PM

7:56 AM

9:18 PM

10:35 AM

Friday

5/20/2005

1:40 AM

N/A

2:58 PM

10:20 PM

12:35 PM

7:36 AM

8:33 PM

10:41 AM

Saturday

5/21/2005

11:46 PM

3:50 AM

5:21 PM

9:38 PM

1:02 PM

8:05 AM

8:29 PM

9:48 AM

Sunday

5/22/2005

1:20 AM

N/A

2:54 PM

9:33 PM

12:37 PM

9:37 AM

8:49 PM

9:45 AM

Monday

5/23/2005

10:20 PM

3:22 AM

2:49 PM

9:34 PM

1:00 PM

7:09 AM

8:30 PM

9:45 AM

Tuesday

5/24/2005

10:28 PM

N/A

2:58 PM

9:44 PM

12:36 PM

7:10 AM

8:40 PM

10:25 AM

Wednesday

5/25/2005

1:09 AM

N/A

2:52 PM

9:37 PM

12:34 PM

9:22 AM

9:20 PM

10:40 AM

Thursday

5/26/2005

1:15 AM

7:40 AM

3:50 PM

9:28 PM

12:58 PM

7:18 AM

9:22 PM

10:25 AM

Friday

5/27/2005

2:51 AM

N/A

3:49 PM

9:35 PM

12:39 PM

9:55 AM

8:35 PM

10:20 AM

Saturday

5/28/2005

2:31 AM

7:12 AM

3:10 PM

9:57 PM

12:39 PM

8:45 AM

8:32 PM

9:58 AM

Sunday

5/29/2005

11:43 PM

N/A

3:40 PM

9:26 PM

12:28 PM

7:09 AM

8:45 PM

9:45 AM

Monday

5/30/2005

11:51 PM

1:22 AM

3:48 PM

9:31 PM

12:33 PM

7:09 AM

8:33 PM

9:45 AM

Tuesday

5/31/2005

11:19 PM

N/A

2:50 PM

9:34 PM

12:39 PM

11:38 AM

8:30 PM

10:30 AM

Wednesday

6/1/2005

12:28 AM

N/A

3:25 PM

9:30 PM

12:39 PM

7:52 AM

8:43 PM

11:30 AM

Thursday
6/2/2005
2:38 AM
1:30 PM
3:16 PM
9:24 PM
1:37 PM
7:09 AM
8:30 PM
10:25 AM
Friday
6/3/2005
2:53 AM
N/A
3:22 PM
9:36 PM
12:39 PM
7:25 AM
8:25 PM
10:20 AM
Saturday
6/4/2005
1:15 AM
12:35 AM
3:34 PM
10:11 PM
12:39 PM
7:30 AM
8:35 PM
9:48 AM
Sunday
6/5/2005
2:31 AM
N/A
2:55 PM
9:31 PM
1:31 PM
7:35 AM
8:40 PM
10:53 AM
Monday
6/6/2005
2:05 AM
12:42 AM
5:50 PM
9:28 PM
12:39 PM
7:34 AM
9:17 PM
9:50 AM
Tuesday
6/7/2005
5:25 AM
N/A
3:15 PM
9:40 PM
1:18 PM
9:02 AM
9:18 PM
10:05 AM
Wednesday
6/8/2005
3:50 AM
N/A
3:05 PM
9:36 PM
12:37 PM
8:15 AM
11:52 PM
10:13 AM
Thursday
6/9/2005
12:40 PM
11:45 AM
3:19 PM
9:38 PM
1:20 PM
7:15 AM
9:30 PM
10:44 AM
Friday
6/10/2005
3:24 AM
N/A
5:15 PM
9:39 PM
12:44 PM
7:10 AM
9:27 PM
10:15 AM
Saturday
6/11/2005
2:42 AM
3:23 AM
9:13 PM
9:19 PM
12:51 PM
9:34 AM
8:30 PM
10:55 AM
Sunday
6/12/2005
12:52 AM
N/A
4:25 PM
9:27 PM
12:32 PM
2:18 PM
8:44 PM
10:04 AM
Monday
6/13/2005
10:58 PM
2:50 PM
9:39 PM
12:37 PM
8:01 AM
9:35 PM
9:50 AM
Tuesday
6/14/2005
11:45 PM
N/A
4:52 PM
9:37 PM
12:55 PM
7:28 AM
8:59 PM
9:53 AM
Wednesday
6/15/2005
2:29 AM
N/A
3:40 PM
9:48 PM
1:00 PM
9:06 AM
9:03 PM
10:17 AM
Thursday
6/16/2005
12:05 AM
4:42 AM
3:27 PM
9:58 PM
12:38 PM
7:09 AM
8:42 PM
10:10 AM
Friday
6/17/2005
N/A
3:17 PM
9:36 PM
12:50 PM
9:59 AM
9:22 PM
10:20 AM